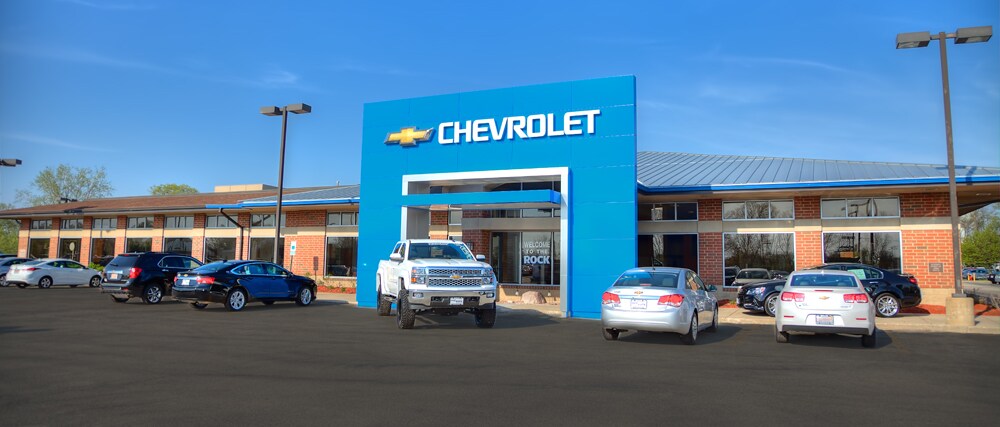 When you Shop the Rock, you can be sure that you are getting the best deal on a new Chevy model because all of our cars have invoice based pricing. We know that there are many Chevrolet dealerships in Chicago to choose from, so we've made it easy by making our prices among the lowest Chevy prices in the country. Whether you are looking for a Chevy dealer near Antioch or you live right here in Grayslake, let us be your Chevy dealer of choice in the north suburbs of Chicago.
Watch our video about why you should buy from Rock Chevrolet!
The all-new Rock Chevrolet in Grayslake, Illinois is excited to be your Chicago Chevy dealer of choice in the northern suburbs as well as your Milwaukee Chevy dealer of choice for those in southern Wisconsin. We know that there may be several Chevrolet dealers near you, perhaps even closer to you than we are, but we can assure you that you won't have the customer service or the huge inventory that Rock Chevrolet has. We are committed to providing you with a truly memorable car buying experience.
Chicago is a Chevy town and there are many other Chevy dealers out there who could get you in a car. However, if you are an Antioch Chevy customer, wouldn't you feel comfortable knowing that you will be looking at 16+ acres of vehicles, all but guaranteeing that you will find a car that fits your needs and budget? Or maybe you are looking for a Chevy dealer near Fox Lake or Libertyville, wouldn't you like to know that Rock Chevrolet is the biggest Chevrolet dealer in the Chicago area with the largest new, used, and certified pre-owned inventory? 

We think so. That's why we want to emphasize that we have Chevys and Chevys and Chevys; over 16+ acres or 784,000 square feet of inventory. That's the size of sixteen football fields, or nine Titanics! Now THAT is a lot of inventory. We wouldn't want you to drive up here from Schaumburg or Arlington Heights or even McHenry only to be disappointed when you arrive, so we keep our new inventory fresh and our used and certified inventory stocked with nearly all car makes and models at all different prices.
Let's face it, buying a car can be intimidating. With all of those papers that you have to read and sign, financial rates and payment calculators, and the list seems to go on and on. Here at Rock Chevy, we are committed to giving you a no-pressure experience without the hours and hours of back-and-forth, wheeling and dealing that other car dealerships might put you through. That is because all of our vehicles are priced based on invoice, or what we call "invoice-based pricing". We are confident that you will get the best deal at Rock Chevrolet because we know that once you Shop the Rock, you won't shop anywhere else.

Are you looking for a fuel-efficient Chevy model to drive around? Check out our Chevy Spark, Chevy Sonic, or Chevy Cruze models, all of which has great fuel efficiency. Maybe you are looking for an electric vehicle? Chevy makes electric cars, or hybrids as we call them. Take a look at the Chevy Spark EV or the popular Chevy Volt, which gets 38 miles gas-free on a full charge. Drive around town, get groceries, pick up the kids for school, all gas-free. Simply plug your car back in when you get home.

If fuel efficiency isn't a big thing with you, Rock Chevrolet has plenty of other new cars, SUVs and trucks to choose from. Test drive a new Chevy Equinox, the signature crossover vehicle for Chevrolet. If you are looking for something bigger, take a look at the Chevy Traverse models, or perhaps a Chevy Tahoe or the supersized Chevy Suburban, which seats up to nine passengers!

When it's time to get certified Chevy service on your new or used car, you can count on Rock Chevrolet. We are one of the largest Chevy service and repair centers in the Midwest and have over forty bays for us to do our work. Our certified Chevy technicians know the ins and outs of your Chevy vehicle and are trained to work on all car makes and models. With every service or repair that you get at Rock Chevrolet, you will get a courtesy car wash and drive home in a clean vehicle. Regardless of whether you need a simple oil change, coolant or transmission flush, tire rotation, new tires, or anything else in between, Rock Chevrolet can handle it. We are happy to serve customers from across the Chicago area as well as the Milwaukee area, including being the Chevy dealer of choice for those in Kenosha, Racine, Lake Geneva, Salem, Schaumburg, Waukegan, Gurnee, Union Grove and more!